In recent years, Content Marketing, especially through blogging sites, has become an important strategy for digital success. Everyone knows that backlinks constitute one of the top three ranking factors for Google. Every SEO worth his salt knows that blogging websites are critical when it comes to search rankings.
In this blog article, we will try to cover the following important aspects-
Understand what are guest posting sites and how they work

Identifying the top challenges of SEOs in terms of finding the top blogging sites

Pointing some important things you need to consider before selecting blogging sites

Listing the top blogging sites that are a must-have on the list of every SEO or agency

Arriving at our conclusions about Link Building and Guest Posting
If you represent a brand that is looking to optimize its SEO strategy or is an agency that is looking for the best blogging websites, you need to pay attention to this article.
Blogging Sites And Guest Posting Sites: What Are They?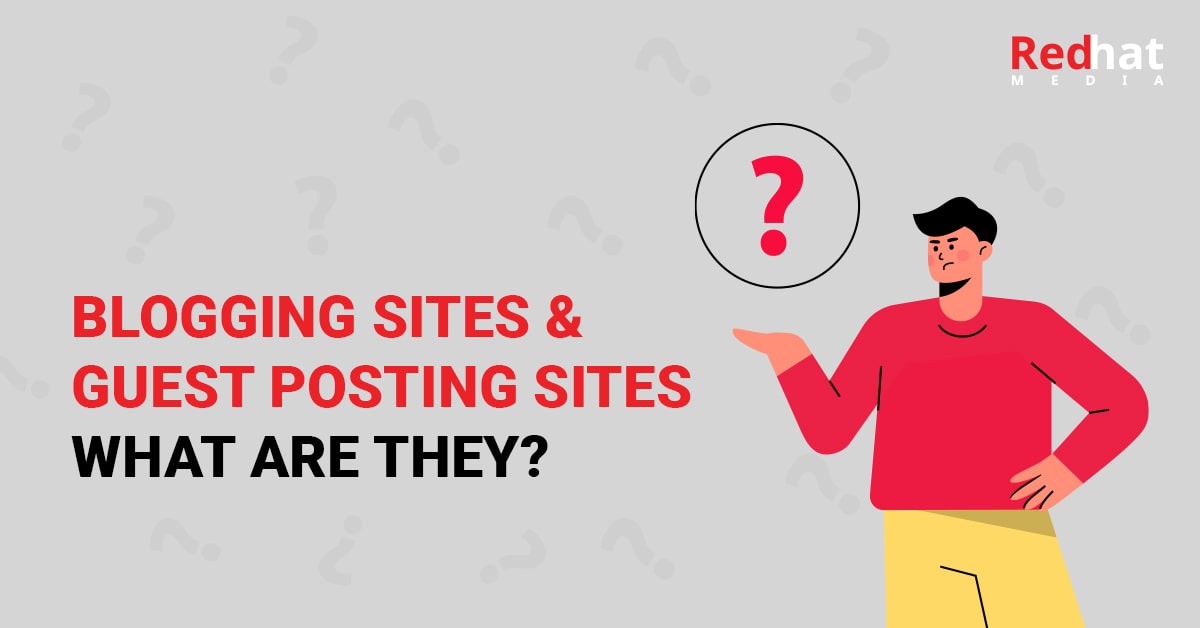 There are millions of bloggers and publishers out there writing about tons of different niches. Normal individuals tend to read blogs on an everyday basis.
We do this if we have to buy a new phone, travel to a new destination, or even understand how to get pregnant! We get all this information from digital media in the form of blogging sites.
These best blogging websites see thousands in terms of traffic figures and experience high SEO metrics. Domain Authority (MOZ), Domain Rating (AHREFS), etc., are some of the metrics used to identify and measure how good blogging sites are.
Guest Posting is used by brands, agencies (on behalf of brands), and SEOs to grow-
Backlinks

Traffic

Relationship

Sales

Revenues
In very simple words, guest posting is the process of contacting a blogger and requesting them to publish a piece of content on his or her blogging site on your behalf.
What's in it for the blogger?
The basis of high-quality guest posting is a well-written and original piece of content. For a blogger, getting an informative or educative article on their site is as good as gold. For them, it means something that they can share with their audiences.
In return for the SEO-optimized content, a blogger will give you a do-follow backlink on the blogging site. If the blogger's audiences and readers find value in your content, they will be tempted to click on the link.
5 Major Challenges Of Finding Top Blogging Sites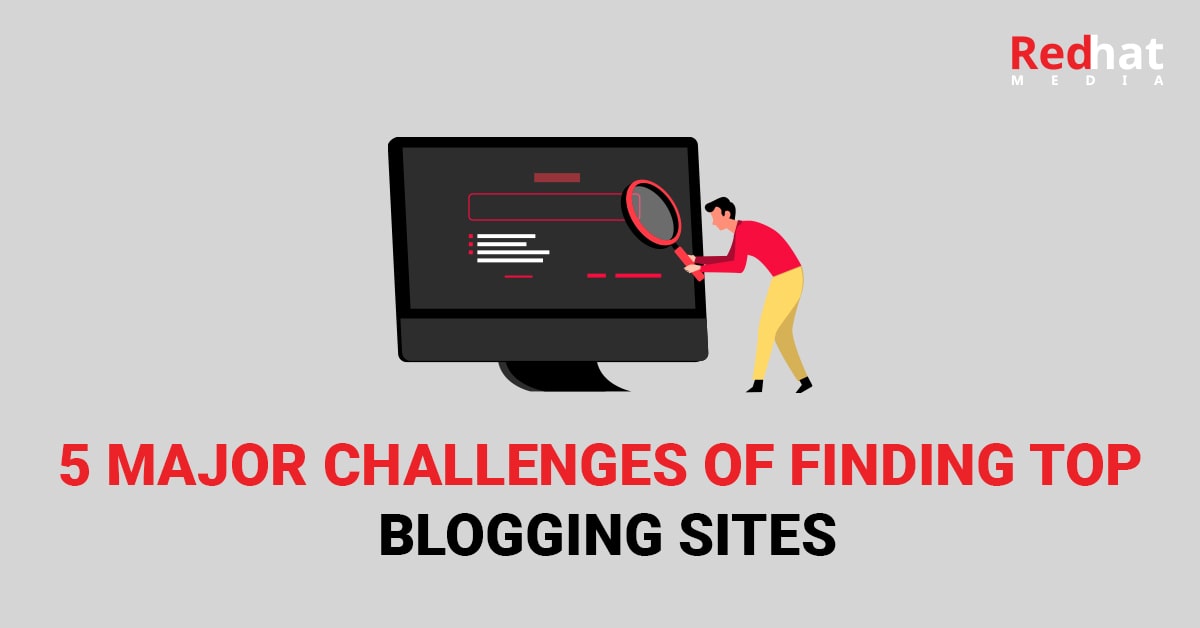 While Guest Posting might sound easy enough, the fact of the matter is that it isn't. In fact. Even the most skilled digital marketing agencies and SEOs face several issues when finding the best blogging websites.
In this section, we spoke to leading SEO experts at Viacon Marketing. We requested them to share the five major challenges SEOs and agencies face in this regard-
1. Finding Niche-Related Blogging Sites
According to Google, Guest Posting works in the best fashion possible if the content is placed on relevant sites. For example, if your client is in the business of Car Insurance, you need to find blogging sites in the Auto, Business, Finance, or Marketing niches.
Related: How To Start A Business With Less Investment – The Ultimate Guide
Guest posting sites on fashion, travel, food, or home should never be considered for a car insurance brand. For SEOs, finding the relevant high-authority sites (traffic + metrics) becomes a major challenge, especially when they do not know where to look in the right places.
2. Creating Long Format SEO Optimized Content
Creating an original, unique, reader-friendly, and SEO-optimized piece of content is not easy. In fact, for some of the world's biggest companies, this is their major area of investment. If you want to get published on high-quality blogging sites, you need great content!
If you are looking to get accepted and make your article perform, you need an article that is in long format. In other words, the length of the article should ideally be over 1500+ words. This shows authority, demonstrates in-depth knowledge, and professes expertise.
3. Selecting the Wrong/Spammy Paid Guest Posting Websites
If you are looking for the best results, high-quality backlinks, and great traffic, you need the best. It is high time, SEOs and Digital Marketing Agencies ditched spammy guest posting strategies. The time has come for publishing articles on sites that are 'real' and 'original.'
A major danger of doing guest posting just for building backlinks always invites trouble from Google. You do not want to build a lot of links for your website on link farms and directories. One manual action is all it takes to banish your website to the dark annals of web history.
4. Focussing on just Link Building on Guest Posting Sites
Guest Posting, specifically to build backlinks, is never a good option. If done right, guest posting can help a brand with backlinks, metrics, traffic, sales, and revenues—however, the same needs a detailed and informative strategy to succeed.
Most SEOs and agencies do not want to put in the hard work when it comes to blogging sites. They feel any piece of content will work, as the aim is to get backlinks. However, such an approach is never going to yield the right dividends. A holistic strategy needs to be followed.
5. Paid Guest Posting/Sponsored Posts Deliver Real Results
Let us get real. All brands from Nike to KFC engage in paid promotions. So, as an SEO or a brand, you do not need to shy away from paying for your backlink. This approach, if done right, can yield rich dividends in terms of backlinks, metrics, traffic, and sales.
Money is an important driver, and blogging sites that are high authority have invested handsomely to make them reach a certain point. If the site is commanding a premium price, it is only because it is a high-authority site. Do not hesitate to go for a paid relationship.
How To Select The Best Blogging Sites According To Digital Marketing Experts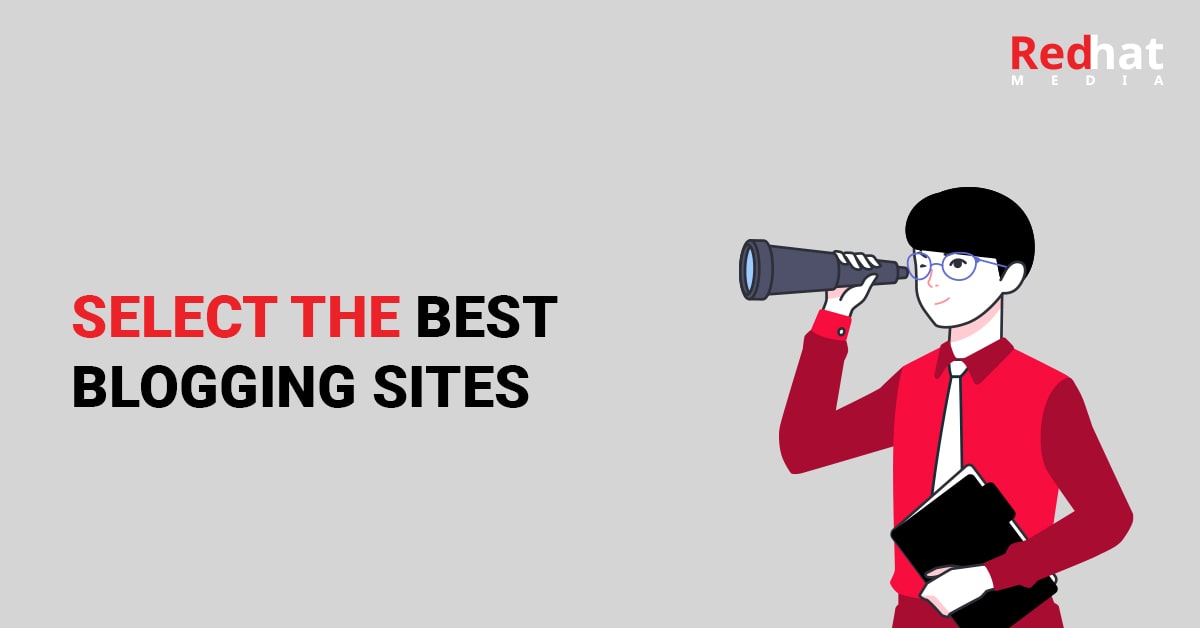 Most agencies and SEOs maintain a list of hundreds, if not thousands, of paid guest posting sites. In this section, we are going to help you select the best blogging sites for your SEO and link-building needs.
1. Go for Blogging Sites that are 'Magazine Websites' as the First Option
Most SEOs feel that magazine or multi-category websites should be avoided in favor of niche websites. While it is true that niche websites can help, there is no real proof or data to back that up. Most bloggers prefer to create magazine sites as they are multi-category in nature.
Magazine sites have several categories- Technology, Entertainment, Fashion, Society, etc. They also have diverse audiences and traffic, leading to a complete profile. Guest posting and link building on magazine sites is a great approach to get backlinks and metrics.
2. Pursue Possible Blogging Sites that are Affordable and Real
Everyone cannot get published on Entrepreneur, Forbes, or other similar platforms. However, that does not mean that agencies and brands that get published someplace else do not experience success. The key is to select blogging sites that are real and affordable.
You need to look at average to good metrics like a DA of over 50 and DR of 30+. In terms of traffic, anything above 100+ is a great option. Finding such guest blogging websites is a real possibility. This will allow you to also enjoy a healthy profit margin from the client.
3. Check for HTTPS and Sub-Domains and Sub-Folders-
There are two important things that you need to check when selecting blogging websites. The first is the HTTPS certificate, which is also referred to as the SSL. This is important as Google is now taking cybersecurity very seriously. Having an HTTPS is a best practice in the industry.
The next thing to check is the URL structure of the blogging site. You need to ensure that there are no additional subdomains or subfolders that are there. This will prevent you from getting the link juice. This will impair your SEO efforts and not contribute to bettering metrics.
4. The Age of the Domain matters, but not to the extent that most believe-
One major fallacy that many have in the world of guest posting and link building is the age of the domain. However, there is still no definite data to back this up. An aged domain is an added advantage, but it should not be considered a deal-breaker.
Younger domains are boosted much quickly by search engines as they are 'cleaner' sites. This means that as an SEO, agency, or brand, you can go for both younger as well as older domains. You need to pay attention to the SEO metrics and the quality of content.
5. Avoiding the Fallacy that Quality matters and not Quantity-
Thinking that it is only the quality of the blogging sites that matters and not the quantity of the links is a mistake. Let us assume that you are spending $500 on a sponsored post on a website with 70+ DA and DR and 10K+ traffic. Now let us look at the other proposition.
You spend the same amount on ten different blogging sites ($50 each). The metrics of these sites are 40+ DA and DR and 500+ traffic. What do you think will perform better? Ten links will help with your link-building campaign more than just one!
List Of 10 Best Blogging Websites For Every SEO, Agency, And Brand In 2022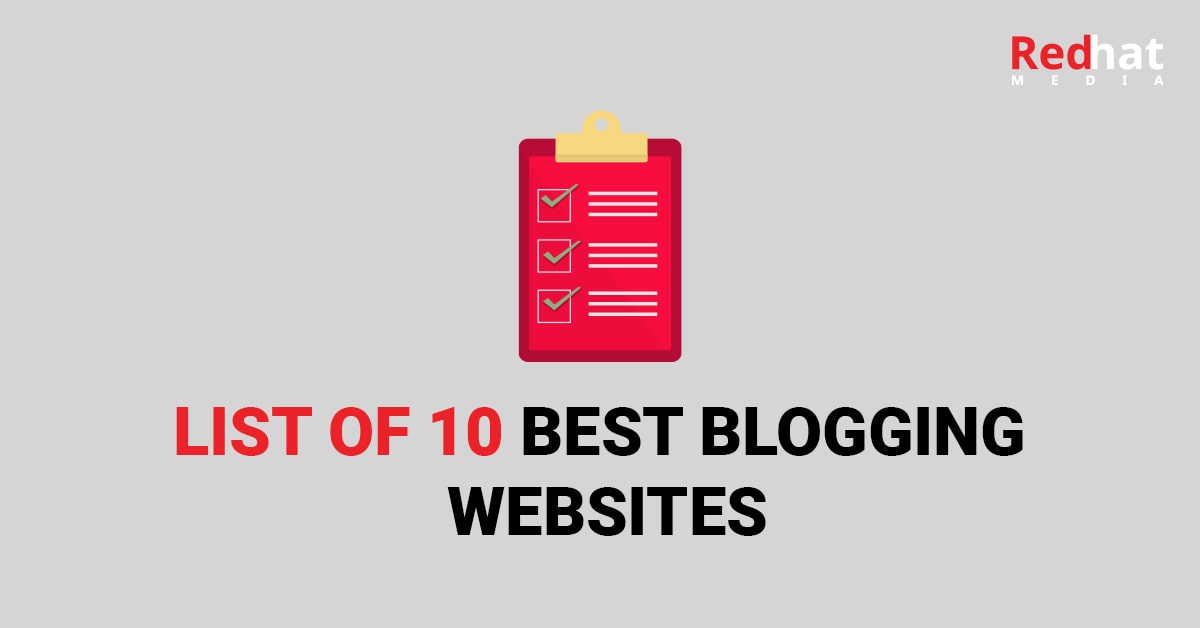 At this stage, you might be craving for some guest posting and blogging sites that are of a paid nature. Thankfully, we have you covered. Let us now share what all of you have been waiting for.
Domain Authority- 61
If you have been in the industry for as long as we have, you must have seen ContentRally popping up in some way or form. The blogging site is a favorite of bloggers, SEOs, brands, and agencies.
With over 5000+ content pieces, it is one of the oldest and most dependable guest posting sites in the world. The backlink profile of ContentRally runs into several thousand. It is a great, affordable and trustworthy blogging site that offers permanent links.
The team behind ContentRally has been running the show for the last five years. Over the period, they have created several blogging websites for guest posting and link building. If you need help with creating content, their team of SEO writers can help you with that as well.
Domain Authority- 63
Business, Lifestyle, Technology, Social Media, and World News. If there is one magazine multi-category site that has been in the sheets of the world's best agencies, it is OnlineNewsBuzz. Like ContentRally, OnlineNewsBuzz boasts of over 3000+ content pieces on it.
The age of the domain is also great. To be exact, it is four years. The simple and fluid design, along with the high quality of content, makes OnlineNewsBuzz one of the best blogging websites in 2022. If you are looking at long-term relationships, ONB is where you should start.
The site is pretty affordable, and the team is highly professional. You get lifetime permanent links, a 24-hour publishing promise. You can rest assured of publishing your content in front of an audience that is targeted and can deliver on the metrics.
Domain Authority- 62
A business blogging site that covers the hottest from the world of finance, marketing, start-ups, entrepreneurship, and much more. For a very long time, RealWealthBusiness has been the chosen blogging site for SEOs and agencies looking for the business niche.
The quality of the content is informative, educative, and in guide form. They also do expert reviews, thanks to their excellent content team. The guest posting site boasts of over 3000+ articles and an age of more than four years.
In terms of the quality of the content and the metrics, the platform is right up there with the very best. If you look at their site close enough, you will see that some of the biggest names in the world of business have published sponsored posts on RealWealthBusiness.
Domain Authority- 57
Great metrics, high traffic, and one of the best blog designs you will ever come across. The Daily Notes, or as it is called in SEO circles as TDN, is a treasure trove of sorts. A multi-category platform, TDN is the blogging site that is a must-have on your list.
The last time we checked, The Daily Notes had traffic of more than 8K! With a wide traffic base primarily concentrated on the United States, this is a great and organic blogging site for brands looking to target the States.
The publisher is helpful and allows you to send in your content. However, this is subject to the strict content quality guidelines of the platform. Just to be on the safe side, ensure that your article is Copyscape checked and is a minimum of a thousand words.
Domain Authority- 57
Moving on to a niche that is hot in demand (travel), the Tour and Travel Blog is an easy-going platform with some excellent articles. In recent months, it has almost become a community/forum for travel enthusiasts.
One of the best things about the blogging site is the custom design. This not only looks very attractive but has a fast-loading speed. There are many informative travel guides, tips, and tricks covering locations from Africa to Eastern Europe. 
With its high metrics and traffic figures, it ranks as one of the best blogging websites in the travel niche. The content guidelines are strict, and it would be best that you let their team of travel bloggers create the content on your behalf.
Domain Authority- 54
If RealWealthBusiness was the big daddy, SmartBusinessDaily is the kid who is making its mark. From the same team behind RealWealthBusiness, SmartBusinessDaily is a great young platform for SEOs, agencies, and brands.
This is a very 'clean' site, if you know what I Mean. The design is very professional, and the quality of articles on the platform is top-notch. The team behind SBD seems to be investing in their content creation process.
SmartBusinessDaily covers topics on business, finance, technology, sales, marketing, and start-ups. If you are not familiar with writing business-related articles, it would be a better idea to ask them to create the content on your behalf.
Domain Authority- 54
Another new magazine blogging site that is making a few waves in the SEO world is RSL Online. With more than 10K traffic, the site is seeing a lot of interest from SEOs, brands, and agencies for guest posting and link building.
Everything on the site, from the design to the content, is optimized, attractive, and oriented towards the readers. This is a major reason why it has been able to experience such high traffic figures in a relatively short period.
Like ContentRally, RSL Online follows in the exact footsteps of being a multi-category site. If you are a blogger looking for a small gem of a guest posting and link-building blogging site, your search should start and end from RSL Online.
Domain Authority- 53
There are several guest blogging sites on this list that are not all that old in traditional terms. This is simply because younger sites have lesser problems, spam scores, and baggage as compared to aged domains.
Top Preference is one platform that is young but has shot up quite handsomely thanks to great design, optimizations, and original content. Like 'The Daily Notes,' this is a Magazine site in the right manner. In terms of categories, you can get published for everything from Technology to Entertainment.
If you are a young brand or an agency looking for long-term relationships, Top Preference should be considered. It can safely be said that in the next few years, it will emerge as one of the top blogging sites in the world.
Domain Authority- 53
All great bloggers hunt in pairs. Why are we saying this? Simply because the brilliant blogger behind Big Jar News is the same one that runs the show at Top Preference. This is a good thing by any stretch of the imagination.
It is a fresher design that you are going to see on Big Jar News. The content is simple, lucid, and informational. You get all the different categories like Business, Lifestyle, Travel, and Society. As we said, this is as best as a multi-category site that you can get.
While both Big Jar News and Top Preference have great metrics and traffic figures, it should be pointed out that they maintain a strict content guideline. It is best that you first send in your content to be reviewed on the blogging site and then wait for it to be published.
Domain Authority- 63
No list of the best blogging websites can be complete without a mention of Pitch Engine. For an SEO looking for markers like the number of articles or the age of the domain, Pitch Engine is the first and only choice.
Let us spell out some numbers just to drive home the point. We are talking about more than 10000+ articles! In terms of referring domains, you are looking at six figures. The high metrics are not something that you would normally see on such an aged domain.
The quality of content on Pitch Engine is second to none. You get informational articles that cover all the major categories and niches. If you check the list of all the major SEO agencies in the world, there is a ninety percent chance that you will find Pitch Engine on it.
Do Guest Posting And Blogging Sites Have A Place In Digital Performance?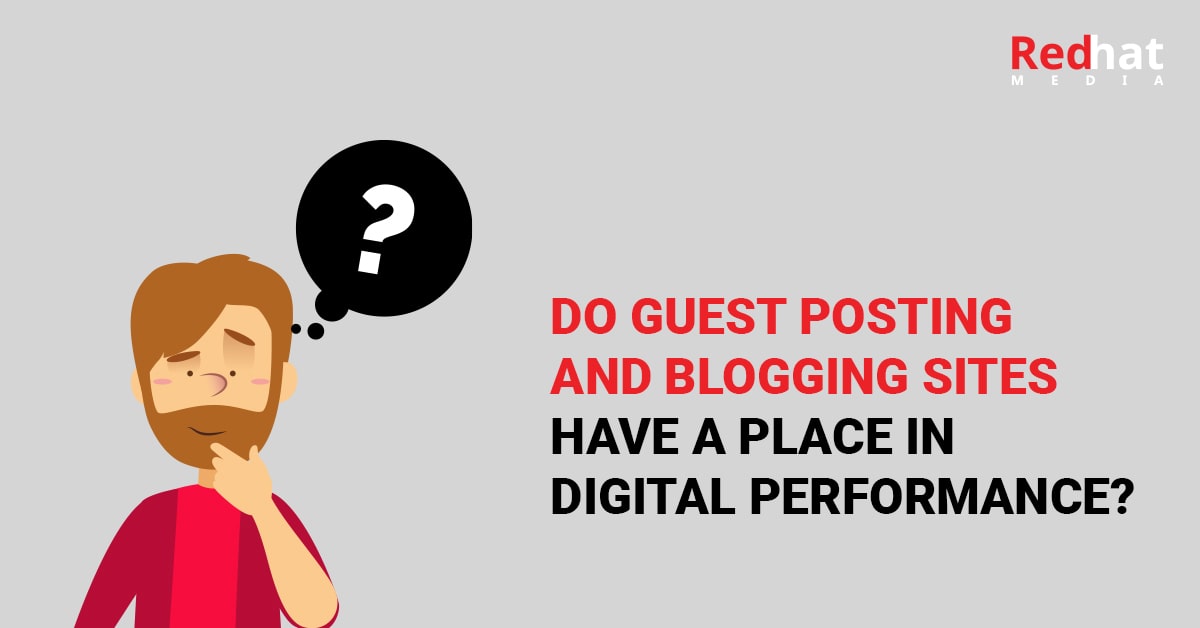 You might say that this question deserves an obvious answer. However, if there is one thing that I have learned in digital marketing, it is that there is always more to what meets the eye!

First things first, blogging sites have and will always continue to hold an important place in digital performance. Indeed, newer strategies like Link Insertions are also becoming popular. This is primarily because they do not have to wait for indexing and get immediate link juice.

FYI- All the blogging websites that have been mentioned in the list accept Text Link Insertions.

As long as link building remains one of the top three ranking factors on Google, guest posting sites will continue to exist. This means that the importance of blogging sites and guest posting websites will remain.

If you wish to know more about blogging sites, understand the finer nuances, or have other general questions on SEO, feel free to ask. Drop your questions in the comments section. We will request our experts to answer as many of them as possible.

[supsystic-tables id=1]